"5D DIESEL DREAM DISRUPTION DEVIATION DENIM"
HALLMARK MOMENTS OF DENIM WITHIN DIESEL MULTI-DECADE HISTORY
"5D DIESEL DREAM DISRUPTION DEVIATION DENIM"
HALLMARK MOMENTS OF DENIM WITHIN DIESEL MULTI-DECADE HISTORY
"5D DIESEL DREAM DISRUPTION DEVIATION DENIM"
HARD COVER, 240PP, CM. 24,4X31,7, English version only
"There's no difference between whether you're young or old. The attitude is still the same"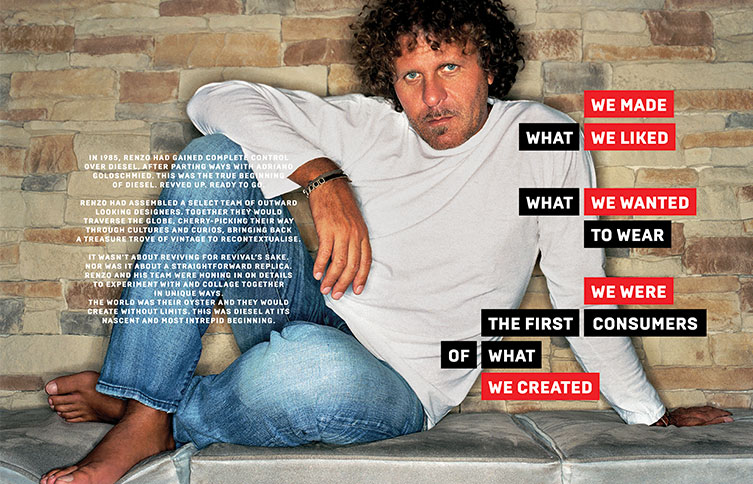 "5D DIESEL DREAM DISRUPTION DEVIATION DENIM"
A UNIQUE BOOK FOR FASHION LOVERS WHICH INVESTIGATES DIESEL'S JOURNEY THROUGH DENIM, HIGHLIGHTING THE INNOVATIONS THAT TOOK THE DENIM WORLD BY STORM AND THE AESTHETIC RELEVANCE OF THE PIECES TODAY
BUY NOW
"We made what we liked, what we wanted to wear, we were the first consumers of what we created"
IN COLLABORATION WITH
EDITED BY SUSIE LAU
Susie Lau is a London-based fashion writer and consultant. She came to prominence through her blog Style Bubble in 2006, and also worked for Dazed & Confused as digital editor and has written for The Telegraph, The Guardian, i-D and 10 Magazine. She currently contributes to publications such as Pop and Elle UK, as well as collaborating with numerous brands on content creation.
PUBLISHED BY RIZZOLI NEW YORK
Rizzoli is one of the world's most distinguished publishing houses, and for decades has been a leader in the field of high-end illustrated books. Ever since its first appearance on the shelves in the 1960s, Rizzoli's lavishly illustrated books have remained an unmistakable presence in bookstores all around the globe.